Alexander Hou - 7/99
Another Beautiful Grandchild
A "Jimmy and Sam Hou" Production
Neenah, Wisconsin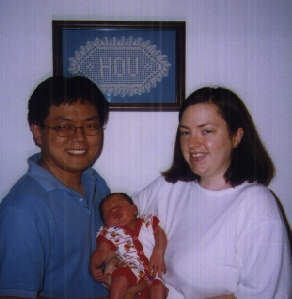 Jimmy, Alex and Sam (Pope) Hou. Are they pleased with this? (Yes! And so are Grandma Barb and Grandpa Stan.)
Alexander Hou arrived in the evening in July 1999 weighing 9 lb. 10 oz. (just slightly smaller than his maternal grandfather) and measured 22 inches.
Can you hear him thinking, "There's going to be some changes made around here! I've just got to get things more organized! Get the activity more focused ... Rearrange priorities ... Optimize the schedules ... But I think I'll have a nap first."



Sam, Alex and the telephone. Why put out a new product if you don't intend to advertise? Here Sam "spreads the word!" Alex "helps?"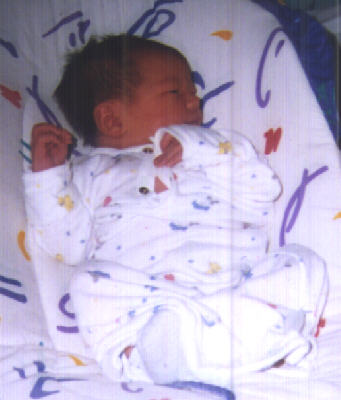 Hey! Who turned on the lights?

Latest update: 11/16/2008
Copyright 1999, 2008 © by Stan Pope. All rights reserved.