Katherine Charlene Sotomayor - 12/2000
In December 2000 Rob and Kay Sotomayor of Rantoul, IL, presented Barb and Stan with a granddaughter. (Pictures at 1 day old.)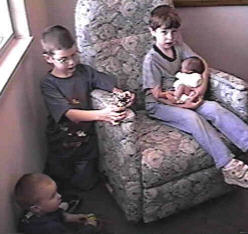 Katherine Charlene Sotomayor joins siblings Victor (top left), Tatiana (top right), and Stanley (foreground left) in their quest to lead Rob and Kay a merry chase. Rob and Kay hope that she will answer to "KC".
6 pound 12 ounce Katherine announced her presence at 7:10 a.m. at Covenant Hospital in Urbana, IL. Here, Katherine wiggles in big sister Tatiana's arms.
Life is good!





Latest update: 11/16/2008
Copyright 2000, 2008 © by Stan Pope. All rights reserved.