Learn to Build A Winner (Cont'd)
Woodshop 101
1. Tools and Materials
Tools:
Drill press. This is important whether the axle slots will be used or separate holes will be drilled for the axles. It is also useful for turning the wheels and dressing the axles. Ask around... someone you know has one.
Nr. 43 drill or nr. 44 drill. This drill size (0.089") provides a good "press fit" for the axle nails. It is needed even if the axle slots will be used, because it helps the nail "know where to go". Check the local hardware stores. Not all of them will carry "numbered drills", but at least one of them probably will. Kits distributed beginning in 1999 may require a nr 44 drill.
Wheel Turning Mandrel. Make your own, or check your local hobby shop. The PineCarTM Wheel Turning Mandrel Nr. P357 does a good job and is not very expensive. It is best if it is used with a drill press, but can be used with a hand held electric drill too. (Note ... the best runout that I have accomplished using my drill press and the PineCar Mandrel is about 0.003". Without precautions, the runout is more like 0.005". A lathe with a mandrel prepared on the lathe should do better than that.)
Try Square/Straight Edge. Checking the block for "square", checking the drill press setup, and measuring and marking the block are some of the uses. Also useful for "sanity checking" your axle alignment.
File. For dressing the axle heads, a fine metal file is essential.
Scroll Saw or Coping Saw. An electric scroll saw (jig saw) is an excellent power tool for a youngster to start with. Safety rules are simple. With supervision, nicks are rare and serious injuries are almost non-existent. Not all designs need this tool, but the best ones do. A coping saw can be used, but, because of the amount of cutting, it may try the patience of most Cubbies.
Wood rasp. A hobby rasp is hard to beat for some wood shaping jobs. Flat on one side and rounded on the other, with both coarse and fine cutting teeth,
Sanding disk. A fine grit sanding disk, mounted in a drill press or electric drill, is great for shaping the front of your Car.
Saw. A table saw (not for use by Cubbies) or a hand saw. This will be used to cut a thin (3/16" to 3/8" thick) slab from the block. This will be the car. If a table saw is used, figure out a way to hold the wood without getting your hands close to the saw blade! (I use small 1/2" brads to tack the pinewood block to a long slat.)
Block Plane. A small block plane is a good tool for smoothing sawn surfaces, such as the top and bottom of the car.
Level. When we are ready to align the wheels, we must be able to adjust a flat surface level side-to-side and to make a slight slope (1/4" in 3 feet) in the surface.
Flat Surface. A flat, smooth surface such as a table top will be needed when we align the wheels.
Tin snips. Very useful for cutting pieces of lead.
Hammer. A satisfying tool for shaping pieces of lead to the needed dimensions.
Anvil. Some chunk of hard metal upon which to shape your lead is needed. Preferably it has a rather flat side to pound the lead on. A large hammer would work, or the back edge of a vice often has such a surface.
Scale. You must be able to identify 5 ounces of Car. A small diet or postal scale or even a crude balance scale made from a protractor will do the job if you can borrow a 5 ounce reference. If you get a bit more serious, then a digital scale with 0.01 ounce accuracy plus a 200.0 gram calibration weight runs about $100.
Ruler. Use a good enough ruler to assure that you will not have to adjust the length of the car on race day. It is better to be 1/16" too short than 0.001" too long. Remember that the 7 inch standard used at the race may not be as accurate as the equipment you use, but the race judges can not check the calibration of your micrometer. Remember, too, that if you expect the judge to take your word, then he would have to take everyone else's word, including "Snake" McLiar. (That's not really his name, but you know who I mean!)
Materials:
Lead slugs. Cast lead slugs, 3/8" in diameter and about 1 1/2" long, are a good way to work with lead. They can be shaped with a hammer to fit into your car where they are needed. Lead sheets about 1/8" thick also works well. If you remove enough wood from your car, you will need between 3 and 4 ounces of lead. Smaller fragments of lead also help when you are bringing the car up to weight.
5-Minute Epoxy. 5-Minute Epoxy bonds well to wood and lead. It also fills gaps where the lead does not mesh exactly and it provides a smooth exterior surface. One dispenser should finish two or three cars. (5-Minute Epoxy also is a good match to the attention span of most builders!)
Hot Glue. Hot glue is a good alternative to Epoxy, but the surface does not work as well as Epoxy. Hot glue is also great for race-day repairs and weight adjustment.
Waxed paper. Great for mixing Epoxy and as a non-stick form for helping to shape the surface when lead and Car are glued together. 1 or 2 feet of waxed paper is enough. Cut into narrow strips (1/8"X1/2"), it makes good shims for aligning your wheels.
Dry Graphite lubricant. Use a fine powdered graphite that contains no petroleum distillates. Oil will soften the plastic of the wheels and make it sticky. Molybdenum graphite claims to be a better lubricant than plain powdered graphite... probably so.
Sandpaper. One sheet each of fine and medium grit sandpaper. A handy trick for sanding "through holes" is to cut the sandpaper into long narrow strips.
Sanding Sealer. Sanding sealer is a good primer prior to final painting of your car.
Paint and Clear Coat. A small can of spray paint (while we can still buy it) makes a good finish. Avoid dusty areas and heavy coats. Apply the spray paint a little at a time. Pretty is nice, but the main goal is a smooth surface for air to flow over.
Jeweler's Rouge. An excellent material for polishing wheels and axles.
---
2. Order of Steps
Select design; work out details on paper (see section 7).
Adapt the steps below to your design.
Drill holes for axles (ream top edge of slots if they must be used).
Draw Top view, including openings for weights, and cut top view.
Shape and sand.
Weigh body, axles, wheels and add weight to total 5 ounces.
Trim to weight limit; final sanding.
Paint and decorate (keep body clean where hubs will touch).
Add graphite and work into wheels.
Complicated steps are discussed in other sections. In the following paragraphs, we will discuss some of the less complicated steps.
Square-up the sides of the block.
The sides of the block are the "reference edges" when the axle holes are drilled. They will lie flat on the drill press table. It is important that they be flat and square with the bottom of the block so that the axle holes will all be aligned perpendicular to the direction of motion.

---
Figure 6. Lay the block on a clean, flat surface and check to see that is sits flat and does not rock. Then hold the try square firmly against the bottom of the block and slide the blade against the side. Check to see if light is visible under the blade.

---
Mark locations of axle holes.
If you are allowed to place your axles where you want them, mark the locations of the axles. Make sure that there will be at least 3/8" of clearance under your Car's body. How about raising one front axle hole 1/16"?

---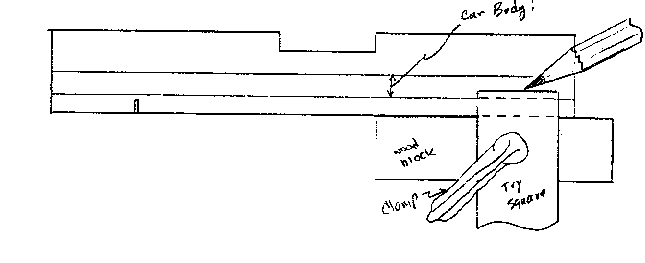 Figure 7.

---
Drill holes for axles (ream top edge of slots if they must be used). Holes should be drilled to a depth of about 3/4". Before drilling, check the table of the drill press to assure that it is perpendicular to the drill! (The Try Square again.) Use a sharp drill and a drill guide and back out the drill frequently to clear the chips.

---
---
Cut Car's profile.
If the profile is straight, use a Carpenter's rip saw or a power table saw for this step... If a table saw is used, the Cubbie should watch from a safe distance and should wear eye protection. Be sure to cut on the "waste side" of the mark, and then use a block plane to remove the last few fractions of an inch.
Shape lead slugs to fit.
Lead is very malleable. It can be shaped with a hammer. Pounding on a piece of lead is very satisfying because you can see the results right away. If you have cut holes in your car body, lead can be shaped to fill those holes exactly.

---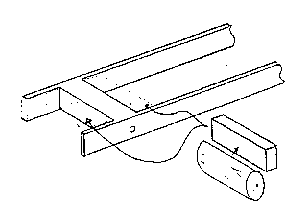 Glue lead pieces to car body.
Lay a strip of waxed paper 3" x 9" on a flat surface, and lay the Car body on one end of the waxed paper. Arrange the lead so that you will know which piece to put in next.
Next, mix an ample supply of epoxy on a piece of waxed paper using a flat piece of wood about 1/2" wide. A good rule of thumb is to mix for 1 minute and apply the epoxy for 3 minutes. Any longer and the epoxy will start setting up. So, be prepared to move swiftly!
Smear epoxy into the openings of the Car including on the waxed paper, if it is a through hole. Dip the next piece of lead into the supply of epoxy and push it into place in the car. Continue until each piece of lead is in place. Try to avoid air bubbles. Finally, smear some epoxy on the top of the lead and fold the waxed paper over the top, and press everything into shape.
One caution is to avoid getting any epoxy in the area around the axle holes.

---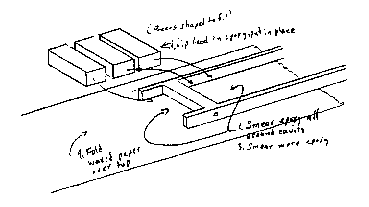 ---
Keep body clean where hubs will touch.
Avoid getting paint or epoxy around the axle holes. One trick is to put a strip of masking tape along the side to cover that area.
---





Latest update: 7/17/2002
Technical Changes for HTML 3.2 Conformance 12/28/97
Copyright 1995, 1997, 1999, 2002 © by Stan Pope. All rights reserved.