Wood Badge Memories
Upon completion of the Wood Badge course (both practical and application phases), the Wood Badge participant is awarded a set of beads to wear with his or her Scout uniform. When not being worn, they should be stored in some safe place. (see picture at right)
The participants in a Wood Badge course are divided into dens (for Cub Scout Trainer Wood Badge) or into patrols (for Boy Scout Leader Wood Badge) with appropriate names: Beaver, Bobwhite (never "quail"), Eagle, Fox, Owl, Bear, Buffalo, Antelope and a few others which are less frequently used in the U.S.
Courses which are not full typically have dens (or patrols) of up to 8 members with the number of dens (patrols) reduced accordingly. My Antelope Den consisted of 7 members. (There were 7 other 8-member dens.) My (Boy Scout Leader WB) Beaver Patrol was one of five 6-member patrols.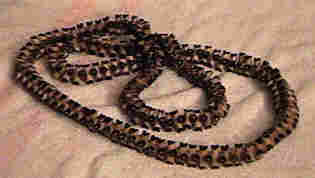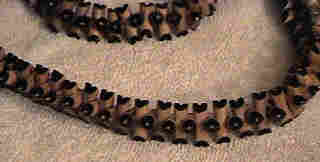 According to tradition, the beads which Baden-Powell awarded to the first WB course participants were taken from a necklace which had been Dinizulu's badge of office and was captured by B-P during an African campaign. Here are some pictures of a replica of that necklace.

---
Back to Pope's Cub Scout Corner Portal

Latest update: 11/26/99
Copyright 1999 © by Stan Pope. All rights reserved.